The nest camera of the University of Turku and Turku University of Applied Sciences provides live video of ospreys and other bird species visiting the artificial nest, situated about 35 m up in a lighted leading mark. The camera is located on the island of Seili in the middle region of the Archipelago Sea, SW Finland. Viewers may watch the web camera year-round, 24-hours a day.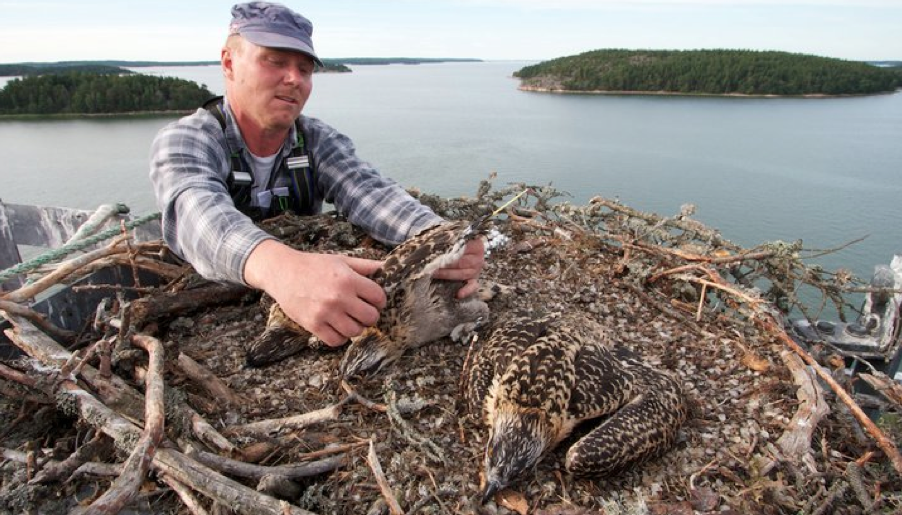 The current camera (Milesight Pro Ptz Dome 5 mp) has been in operation since December 2018. The 1080p live stream is transmitted from the nest to Youtube and Saaristomeri.utu.fi using two nanobeam antennas. Due to the camera's location, storms etc. may cause sudden power outages which will interrupt the feed.  Any issues with the feed will be resolved as soon as possible.
The camera is maintained by the University of Turku and the Turku University of Applied Sciences. The data at https://saaristomeri.utu.fi website is licenced with The Creative Commons Attribution 4.0 International license (CC BY 4.0). How to cite: "Seili Environmental monitoring programme, Osprey web camera. YEAR. Turku University/ Turku University of Applied sciences, Turku. https://saaristomeri.utu.fi/seili-osprey-web-camera/".
When sharing videos and images from the nest to social media, please use hashtags #seiliospreys, #uniturku #turunamk
The history of the nest
The nest camera was installed to the osprey nest in 2006 by the Turku University of Applied Sciences (TUAS) with the help of Archipelago Research Institute's (University of Turku) infrastructure. At the beginning, the camera was maintained as part of NatureIT project, coordinated by TUAS, and later continued as part of TUAS projects Saaristomeri.info and BalticSeaNow, focusing on science communication and environmental education. Since 2015, the Archipelago Research Institute has fully participated in the maintenance and funding of the web camera and connections.
Year
Nesting osprey couple
First sighting
First egg laid
1. chick hatched
2. chick hatched
3. chick hatched
Incubation period (days) of the 1. chick
More information
2021
Hilma & Onni
7.4
1. 14.5.
2. 18.5. (re egg-laying)
1. Egg robbed by crow 15.5.21
2.Egg robbed again by crow 2.6.
On April 7, 2021, a female first arrived at the nest (yellow ring, PKJ / Timo Pylvänäinen, Joutsa 2018 ringed as a nestling pup). The male arrived
12.4.2021 (ringed, right foot). During April, an unringed male and another ringed male (left foot) also visited the nest. Nesting birds are an inexperienced young couple which explains the failure of nesting. The camera mount was fixed on June 15. A new microphone was installed at the same time, but the replacement did not fix the sound world.
2020
Olof & Malin
5.4.
22.4
3 eggs at the nest. Male not sighted after 11.5.
14.5. female left the nest empty most likely because the male had not provided the incubating female with food. Crow ate the eggs ca. 16:08 o'clock. Since then, several ospreys sighted at and nearby the nest.
2019
Olof (M) & Malin (F)
4.4.
24.4.
1.6
-
-
38
The camera's position was changed 26.3 and a sitting perch was also installed.The microphone is at the moment turned off due to technical issues.
3 eggs were laid, but only one hatched. The chick was named Kari.
2018
* Several individuals sited
9.4.
Several ospreys sited at the nest but no nesting.
New nest camera installed on December 11 2018.
2017
Vasuri (M) & Tilda (F)
3.4.
16.4.
25.5.
27.5.
27.5.
39
Tilda disappeared 27.6 and one of the chicks died 13.7 seemingly due to sibling rivalry.
2016
Vasuri & Tilda
2.4.
21.4.
28.5.
31.5.
37
Live audio is included
2015
Vasuri & Tilda
10.4.
21.4.
31.5.
31.5.
40
The University of Turku starts to maintain the camera 
2014
Vasuri & Tilda
10.4.
23.4.
1.6.
2.6.
3.6.
39
2013
Vasuri & Tilda
11.4.
28.4.
6.6.
6.6.
8.8.
39
2012
Vasuri & Tilda
10.4.
3.5.
4.6.
4.6.
6.6.
32
BalticSeaNow-project starts to maintain the camera. New camera and a nesting platform is added.
2011
Vasuri & Tilda
13.4.
3.5.
12.6.
12.6.
14.6.
40
Several ospreys are observed to visit the nest. Vasuri prevails and mates with a female named Tilda. 
2010
Eeli (M) & Ristipää (F) * 
8.4.
*First egg is laid 28.4 but nesting fails. 
 Several ospreys are observed at the nest, Soma (F) and Vasuri (M) were named in addition to Eeli and Ristipää, 
2009
-
5.4.
30.4.
-
-
-
-
Some information lost due to a thunderstorm
2008
-
-
-
-
-
-
-
Saaristomeri.info project maintains the camera.
2007
-
-
-
-
-
-
-
2006
Tapani (M) & Liisa (F)
-
3.5.
-
-
-
-
TUAS installs the camera as part of  Natureit.IT project. The osprey couple lays three eggs, additional information not available.
– information not available
Information in this table has been collected from project reports and Saaristomeri.utu.fi & luotio.fi discussion forums. After 2018, the table is also updated according to observations made by the staff. The table is also updated with information provided by viewers, contact us!